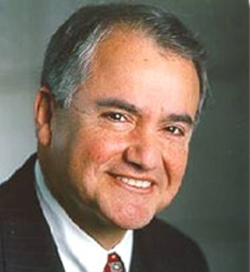 Edward H. Muñoz, Advisor
Edward H. Munoz was a co-founder of Muñoz Group, and is now an advisor to the firm. He has a successful 30-year track record in the global chemical and plastics industry, and in emerging technologies.
International Business Experience
Senior and CEO positions with Celanese and the Hoechst Corporate Group, including:
CEO of Ticona (1999-2002)
Head of the Mexican Celanese subsidiary, Celanese Mexicana, S.A. (1993-1995). At that time, Celanese Mexicana was the largest privately-owned chemical processing company in Mexico and one of the largest in Latin America, with sales of over one billion dollars.
President of the Worldwide Pigments Strategic Business Unit for Hoechst, AG, in Frankfurt, Germany (1996-1998)
Chair of a Hoechst corporate group that developed strategic options for the divestment of Trevira, and a Trevira Board Member.
President of Worldwide Technical Fibers, Hoechst (1998-1999).
Head of the negotiating team that ultimately sold Hoechst's Polyester business to Kosa, the Koch- Saba joint venture.
Chief Executive Officer of Ticona, and a Board Member of Celanese, AG, in January, 1999, where he served until co-founding Muñoz Investment Banking Group in 2002.
In 1980, Mr. Munoz became managing director of Ticona, a joint venture company between Hoechst and Celanese, a position he held until 1984. He was instrumental in coordinating technical and production know-how among the Hoechst, Celanese and Japanese (Polyplastics) partners.
In 1984, Mr. Munoz joined Baxter Travenol in Chicago, where he served as operations director for medical devices, and later as vice president of engineering and packaging for the pharmaceutical division until 1988.
Mr. Muñoz then joined the Hoechst Celanese organization in 1988
as director of manufacturing for Engineering Resins. In 1990, he was promoted to vice president and general manager of the Plastics Division of Hoechst Celanese, and in the following year, became president of the Advanced Materials Group.
Top Professional and Educational Credentials
Member of the Board of Trustees for the University of Texas-Pan American.
Member of the Council of Natural Sciences at the University of Texas at Austin
Charter member of the Executive Committee of the Bilateral (U.S.-Mexico) Business Council for Sustainable Development of the Gulf of Mexico.
Chairman of the International Advisory Council of Texas A&M University at Corpus Christi
B.S., Polymer Chemistry; University of Texas (1967)
MBA; Texas A&M University (1979).
Fluent in English, Spanish and German.