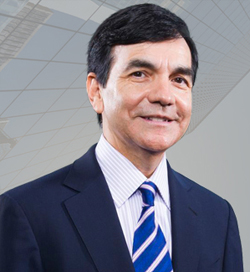 George Muñoz is an internationally recognized leader in business, law and finance. He has overseen and directed complex transactions, and serves as an advisor to major industry and government leaders.
Business Experience Highlights
Prior to co-founding Muñoz Group, Mr. Muñoz was the President and Chief Executive Officer of the Overseas Private Investment Corporation (1997-2001), an independent agency of the Federal Government. As CEO, he oversaw an 18 billion dollar portfolio of loans, guarantees and political risk insurance on private sector investments in the emerging markets.
Prior to OPIC, Mr. Muñoz was appointed by the President and confirmed by the U.S. Senate as Assistant Secretary and Chief Financial Officer of the U.S. Treasury Department (1993-1997). Muñoz oversaw the Treasury's budget, financial statements and management policies. He worked closely with the Treasury Bureaus including, the IRS, Customs, OCC, OTS, FMS, ATF, and the Secret Service.
Mr. Muñoz worked in law and investment banking in Chicago prior to moving to Washington, DC. He was a partner in the investment banking firm of Stevenson, Colling & Muñoz (1990-1993). Prior to that, he was an Associate and then a Partner in the Chicago law firm of Mayer Brown (1980-1989) working on complex international tax and business matters.
Muñoz has over 20 years of experience performing financial advisory and legal services, including, valuations, fairness opinions, tax planning, commercial and political risk assessments on overseas investments, and has structured and negotiated business transactions including mergers and acquisitions, project finance and private equity ventures.
Professional and Educational Credentials
JD; Harvard Law School (1978)
MA, Public Policy; Kennedy School of Government (1978)
Master of Law in Taxation; DePaul University (1984)
BA, Accounting; University of Texas at Austin (1974)
Certified Public Accountant (Licensed in Texas, Illinois and Virginia)
Attorney (Licensed in Washington DC, Illinois, Texas and Virginia)
Taught Georgetown University MBA courses.
Certified Financial Planner™, Certified in Financial Forensics (CFF – AICPA), and Accredited in Business Valuation (ABV – AICPA)
Civic and Corporate Activities
Current member of the Board of Directors of Marriott International (MAR), Altria Group (MO), and the National Geographic Society.
Chair of the Audit Committee of Altria Group (MO) and of National Geographic Society.
Board of Directors, United States Hispanic Leadership Institute (USHLI)
Co-Author of the book, Renewing the American Dream: A Citizens Guide.
Member of the President's Commission on White House Fellows (2009 – 2017)
Former Member of the Governing Board of the Certified Financial Planners Board of Standards.
Former President of the Chicago Board of Education (1984-86)
Former Trustee, DePaul University